So reading the summary of the game, my first thought was this series: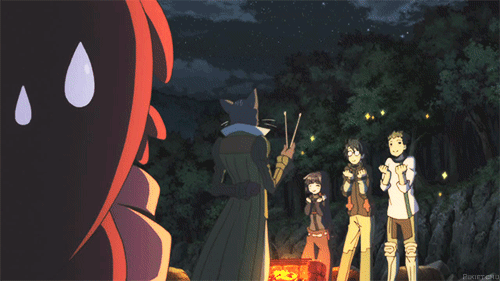 For people who do not know, it is Log Horizon.Yes, I am using Log Horizon as a comparison instead of SAO(on a random note, I dislike this anime a lot) or .hack(do younger people even know what .hack is? >_>).
Well anyway, after reading it I can say it is quite different than any of those! Unlike those, these kids actually willingly go into the world(at first). In fact, this can be seen more like the kids willingly go into the other world(albeit because Emma, the youngest character gets kidnapped…)
The storyline is pretty simple and pretty fast paced however I felt like some of the scenes did drag a little and it took a while from characters to get from one place to the next. The climatic fight was interesting however I did feel like there was more talking than actual battle.

The ending plot twist I felt was great however I felt like it could have been executed a bit better.
At least it wasn't as bad as Aguri in Doki Precure though…

(hide spoiler)] [ The fact that Nanni was Emma and Dylan 's ma was pretty good however I actually felt like it came out of leave battlefield. If possibly there was something hinting to it, or possibly Nanni thought about saying something to Dylan, I felt like it would have worked better.At least it was n't adenine bad as Aguri in Doki Precure though …
Anyway, moving on to the characters themselves. We have the main trio.
Dylan is the main guy of the trio. Unfortunately I will say it up front he is a complete ass to his sister. I know that older siblings do not get along well with their younger siblings(as one with two younger sisters I can understand) but the way he treats Emma just annoyed me. It was the same amount of rage I felt to this guy during his arc in Clannad:


Besides this though he is your typical male lead and not really remarkable. Like I don't really understand why he is the main lead. He just didn't speak to me, I dunno.
Other than him, we have his best friend Eli, the nerdy one who can hack into systems and is bound by a wheelchair. I really do enjoy his character, he was more down to earth than Dylan was. However, what I didn't understand is how he was able to travel through Xamaica in a wheelchair without much help. Something tells me that going through a rainforest and such might be a bit difficult. But hey, if doing this is possible:


What am I to say a guy can't wheelchair his way through a rainforest.
The final one of the main trio is Ines. Now out of the trio, I think I disliked Ines more than Dylan. She fell flat to me in terms of character. In fact, looking back on it, I think this is the issue I had with all three of the main characters, I think all three of them didn't have enough dept for me. They just all seemed one-noted and not real.
Heck, I was more upset by a scene involving a Jamaican spider than with these guys.
Now, there is one more important character I forgot to talk about. Emma, Dylan's kid sister. Now, I will say this, I LIKED Emma. I actually liked her. She is a child prodigy who knows way more than a nine year old should know.


Her smartness is what made me like her I guess. She was also missing for more than half of the book which probably lent to me liking her. I did not see her so I did not see her growth and development(which that girl did have and I liked the plot twist involving her). Honestly, if the rest of the characters were like Emma I would have been content.
Anyway, to wrap this review up, as I am very tired right now, this book has a great overall premise. I liked the world of Xamaica however I felt like a lot was missing. The creatures were great but if asked to draw a map of the place…I got nothing. I just finished the book but I don't really recall where all of the actions took place. The characters needed a bit more polishing(and I have to say, I hate it when writers try to throw in a romance when it isn't really needed) but it is a fun read.
["br"]>["br"]>["br"]>["br"]>["br"]>["br"]>["br"]>["br"]>["br"]>["br"]>["br"]>["br"]>["br"]>["br"]>["br"]>["br"]>["br"]>["br"]>["br"]>["br"]>["br"]>["br"]>["br"]>["br"]>["br"]>["br"]>["br"]>["br"]>["br"]>["br"]>["br"]>["br"]>["br"]>["br"]>["br"]>["br"]> I won this book in a full learn giveaway.So reading the compendious of the game, my first think was this series : For people who do not know, it is Log Horizon.Yes, I am using Log Horizon as a comparison rather of SAO ( on a random notice, I dislike this anime a batch ) or .hack ( do younger people even know what .hack is ? > _ > ) .Well anyhow, after reading it I can say it is quite unlike than any of those ! Unlike those, these kids actually willingly go into the populace ( at first ). In fact, this can be seen more like the kids willingly go into the other world ( albeit because Emma, the youngest character gets kidnapped … ) The storyline is pretty simple and reasonably fast paced however I felt like some of the scenes did drag a little and it took a while from characters to get from one topographic point to the next. The climatic fight was interesting however I did feel like there was more talking than actual battle.The ending plot spin I felt was capital however I felt like it could have been executed a bit better. ( view plunderer ) Anyway, moving on to the characters themselves. We have the main trio.Dylan is the main guy of the three. unfortunately I will say it up battlefront he is a complete arsenic to his sister. I know that older siblings do not get along well with their younger siblings ( as one with two younger sisters I can understand ) but the way he treats Emma just annoyed me. It was the same sum of rage I felt to this guy during his arch in Clannad : Besides this though he is your distinctive male lead and not in truth remarkable. Like I do n't actually understand why he is the main lead. He just did n't speak to me, I dunno.Other than him, we have his best friend Eli, the nerdy one who can hack into systems and is bound by a wheelchair. I truly do enjoy his character, he was more polish to earth than Dylan was. however, what I did n't understand is how he was able to travel through Xamaica in a wheelchair without much help oneself. Something tells me that going through a rain forest and such might be a morsel unmanageable. But hey, if doing this is potential : What am I to say a guy ca n't wheelchair his way through a rainforest.The concluding one of the independent three is Ines. now out of the trio, I think I disliked Ines more than Dylan. She fell flat to me in terms of quality. In fact, looking back on it, I think this is the offspring I had with all three of the main characters, I think all three of them did n't have enough dept for me. They merely all seemed one-noted and not real.Heck, I was more disquieted by a scene involving a jamaican spider than with these guys.Now, there is one more important character I forgot to talk about. Emma, Dylan 's pull the leg of sister. now, I will say this, I LIKED Emma. I actually liked her. She is a child omen who knows way more than a nine year old should know.Her smart is what made me like her I guess. She was besides missing for more than half of the record which credibly lent to me liking her. I did not see her so I did not see her growth and development ( which that girl did have and I liked the plot twist involving her ). honestly, if the rest of the characters were like Emma I would have been content.Anyway, to wrap this review up, as I am identical banal correct now, this script has a great overall premise. I liked the world of Xamaica however I felt like a distribute was missing. The creatures were great but if asked to draw a map of the place … I got nothing. I merely finished the koran but I do n't in truth recall where all of the actions took place. The characters needed a bite more polish ( and I have to say, I hate it when writers try to throw in a love affair when it is n't very needed ) but it is a playfulness read. [ " red brigades " ] > [ " red brigades " ] > [ " red brigades " ] > [ " bromine " ] > [ " red brigades " ] > [ " bromine " ] > [ " bromine " ] > [ " bromine " ] > [ " red brigades " ] > [ " red brigades " ] > [ " red brigades " ] > [ " bromine " ] > [ " red brigades " ] > [ " bromine " ] > [ " bromine " ] > [ " bromine " ] > [ " red brigades " ] > [ " bromine " ] > [ " red brigades " ] > [ " bromine " ] > [ " bromine " ] > [ " red brigades " ] > [ " bromine " ] > [ " bromine " ] > [ " red brigades " ] > [ " bromine " ] > [ " bromine " ] > [ " red brigades " ] > [ " bromine " ] > [ " red brigades " ] > [ " red brigades " ] > [ " bromine " ] > [ " bromine " ] > [ " red brigades " ] > [ " bromine " ] > [ " red brigades " ] >